Picture Framing Shop
Serving Grand County, CO
Rocky Mountain Interiors Picture Framing is a full-service expert, ready to help with most framing and repair needs. As a locally-owned business, we're dedicated to providing reasonable rates and friendly customer service. We believe there's an affordable framing option for every budget and will work with you to help you select the best solution for your project. Visit us for complete framing, as well as mounting, matting, glass cutting, mirrors and more!
Frames for Every Home and Budget
From pictures of friends and family to art and imagery, the décor in your home is unique—it holds sentimental value and represents your lifestyle. It deserves to be specially framed with something as one-of-a-kind as the images themselves. Rocky Mountain Interiors Picture Framing provides custom picture framing to customers throughout Grand County, CO who want to add a special level of décor to their cherished images.

Learn More
---
Completely Unique To Your Home
We're framing experts who can handle the framing process from start to finish, even cutting glass! Choose from numerous unique framing materials, in varying colors and styles. Then, we'll put it together with the right matting and mounting hardware. The result is a framed piece of décor that's completely unique to your home and wonderfully sentimental.

Learn More
Get Something Special At a Great Price
Homeowners throughout Grand County, CO come to our frame shop not only because of our skill as framers, but because they know they're going to get something special at a great price. We're home to frames made of old barnwood, aspen and Beetle-Kill Blue Stain Pine, and we take care to create unique frames that look like they were meant specifically for your home.
We're Members Of The Professional Picture Framers Association (PPFA).
We believe there's a frame for every budget, and we delight in building frames that make our customers' eyes open wide and their jaw drop! We are full-service picture framers who can help with most framing and repair needs. Whether it's a sentimental picture of a loved one, striking image or a unique piece of art, it deserves the right frame. Visit Rocky Mountain Interiors Picture Framing today to have it made specially, and bring home something exceptional that you'll cherish for a lifetime. We specialize in handmade, local blue-stain beetle kill pine, aspen and barnwood frames. Our capabilities also include mounting, matting, glass cutting, mirrors and more.

Learn More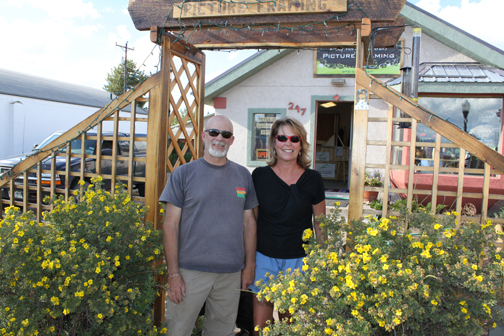 Frame Your Lifestyle
Frames are the finishing touch for the images that matter most in your life. Contact us today for more information about how to personalize frames for your home and all the memories in it. Proudly providing custom framing to the following cities and surrounding areas:
Granby, CO
Fraser, CO
Grand Lake, CO
Hot Sulphur Springs, CO
Kremmling, CO
Winter Park, CO
Grand County, CO
Walden, CO